And Then There Were None
by
One of my writing communities recently had a discussion about how many suspects you need to have in a mystery novel. Most people settled on four or five, but a few authors pointed out that you could write a story with only one viable suspect, as long as you kept the audience in suspense the whole time about whether he is guilty or whether the detective would be able to catch him. This is the Columbo model of storytelling, and it can be highly entertaining, especially if you have Peter Falk to pull it off.
In real life, investigators may winnow the field to just a suspect or two and yet still be unable to prove their case. The most fascinating example of this that I have come across is the murder of Diane Kyne. Diane Kyne was home one afternoon with just her husband, Bill, and her adult son, Kevin, when she was strangled to death. One of the men is surely her killer…but which one?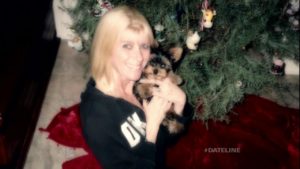 Both men called 911 to report the murder at roughly the same time, and each claimed the other one had killed Diane. The police arrived to find Bill and Kevin grappling on the lawn, accusing each other of murder. Investigation of the scene showed Diane dead in her bedroom, a victim of strangulation. There was a pair of glasses and a shoe nearby, and a few drops of blood on the bed near her body.
The son, Kevin, had a wicked temper. He had made violent threats against family members in the past, and the police had been out to the house previously when the fighting with Kevin grew out of hand. Kevin had been kicked out of the house before, but Diane let him back in. Rumor had it she was considering removing him again, possibly for good. Forensic investigation revealed that the sandals found near Diane's body had Kevin's DNA on them, and the drops of blood near her body belonged to him.
The husband, Bill, did not go check on his wife after he had found her not breathing…possibly because he knew she was already dead. Diane was strangled to death, and it was Bill's DNA, not Kevin's, that was found on her neck. Bill seemed to have the stronger motive for murdering Diane: he stood to collect $750,000 in insurance money after her death. And Bill had experience in this department! He had already collected $250,000 in insurance money following the strange death of his first wife. Wife #1 had supposedly awoken in the night, wandered out into the pool area, somehow hit her head, and drowned. Her death was ruled an accident.
The police eventually arrested Kevin for Diane's murder, and he was initially convicted and sentenced to life in prison. At a second trial, however, the jury ruled Kevin not guilty. Prosecutors are reluctant to retry the case a third time.
By all accounts, Bill and Kevin despised one another, so it's improbable that they conspired to kill Diane. This leaves us with a situation where both men know the truth, and yet we from the outside cannot definitively spot the liar. Out of the 7 billion people on the planet Earth, Diane Kyne's killer can be narrowed to a population of just two men…but that's all it takes for the guilty party to walk free.
What do you think? Was it Bill or Kevin?