Ah, fall, when the air is redolent with the scent of woodsmoke and new pencil erasers. The kids are back to school today, and we somehow have a third grader. I swear she just started kindergarten yesterday. But no, amazingly she is eight and I can hardly believe it because eight is a significant year in my memory. It's when I decided I wanted to be a writer. (Spoiler alert: it's going to take more than three decades to accomplish this goal.) More than that, though, age eight feels contiguous with who I am now. That eight-year-old and me, man, we're the same. I look at my daughter now and wonder if she will experience eight the same way.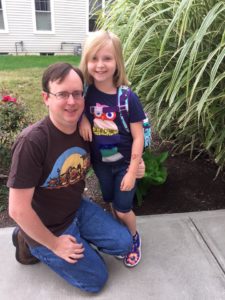 She sometimes wants to be a writer. Sometimes a chef. Also sometimes a rock star. These days she spends a lot of time making up plays for the neighborhood. The latest one is called "Me and My American Ninja Warrior." (It is hilariously misspelled "My American Ninja Worrier" on some of the fliers.) The story involves a girl named Amelia who leaves her country home to become the first female to fight in the army in a great war for truth, justice and freedom (the opponent here is somewhat murky, but it's men who are telling her no and she is standing up to them). When Amelia's mother begs her not to go, Amelia demurs, saying, "My home is the battlefield now."
What is most interesting about this play is that she and her friend next door have conceived a second role that shadows Amelia and plays her inner self. Eleanor performs Amelia's outer actions, while the friend gives her inner thoughts. There is a prescient tune (yes, it's a musical…) in the first act where Amelia is musing on how society asks her to behave one way but what she really wants is to be valiant in battle. It includes a line about how "my insides sing a different song."
I find it amazing and inspiring that these eight-year-olds are already wise enough to listen to their inner voices. I hope they sing loudly and proudly, this year and every year.