Lessons on Writing from the Piano Man
by
Friday night, we took our nine-year-old daughter to see Billy Joel perform at Fenway Park. He's her favorite, you see, because she was born in the wrong decade. The concert shook the baseball stadium as hard as any Red Sox playoff game, and The Piano Man can still tickle those ivories at age sixty-nine. Joel was in a reflective mood as he took us through the songs that made up his career, and I came away feeling inspired as an artist. Here are some of my takeaways from Joel's wisdom: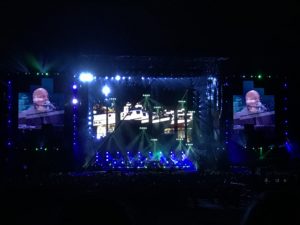 Not every piece you produce will be a hit, and that's okay. After opening with a couple of chart-toppers, Joel down shifted into several of his lesser-known songs. At the third one in a row that he introduced by saying, "This one…was also not a hit," the audience chuckled. Joel protested. "Hey, I spent just as much time writing the non-hits as I did the hits!" It's hard to know when you produce a story or a movie or a song whether it will resonate with your audience. The best you can do is keep on creating.
How you feel about your work right now may not predict how you feel about it later. Joel performed "The Entertainer," which he says he wrote during his "cynical period." The song details all the downsides of being a hit singer—the constant travel, the pressure to conform to a certain popular aesthetic, the sense that you've lost control of your art. Decades later, Joel is amazed and grateful that he can still pack a stadium with thousands of fans. "Thanks," he said sincerely, "for showing up."
The best way to have a great idea is to generate lots of ideas in the first place. As Joel noted, he's had more non-hits than hits. But he didn't give up or go away angry at the first song that failed to make the charts. He kept writing and eventually he created more hits that are still in the rotation on pop stations today. This is a hoary chestnut from the writing world but it remains true: you are only a failed writer if you stop writing.
You never know where you may find your biggest fans. Most of the people at the concert were solidly in Joel's demo—my age and older. We're the people who grew up with his music. But we were there because my nine-year-old loves his songs, these pieces written decades before she was born. Once you put your art out there, it can go places you'd never expect, and touch people you've never met.

My daughter, rapt, watches Bill Joel perform her favorite songs.

Once you put your art out there, it's not quite yours anymore. It belongs to the people. "The Entertainer" deals with the frustrating aspects of this truism, but Joel is now in his closing act and he is thinking more of his legacy. The songs aren't his to keep forever. They are inherited by the fans who will carry them forward.
"Piano Man" is beloved almost to the point of cliché among those of us at a certain age, but one of the reasons it persists is that there are so many places in the song to see yourself. Are you the waitress just trying to do your job while getting hit on by the guys? Maybe you're the real estate agent who prized career over family, potentially to your regret. Or maybe you're the bartender, someone could really make a mark if you "could just get out of this place."
We're sharing a drink we call loneliness because we're all lonely at one time or another. No one was lonely at Fenway on Friday, though, when the band cut out and the crowd sang the "Piano Man" chorus in a thundering, unified roar. Joel sat on the stage and took it in, the emotion pouring out at him from these masses who had adopted his song and made a home for it in their hearts.