When you write about people, you make sure to draw them as individuals with a particular combination of likes and dislikes, strengths and foibles. If the people in your story have pets, you should treat them the same way. There is no universal "dog" or "cat" personality, and the key to writing a memorable pet is to make sure they have their own unique flair.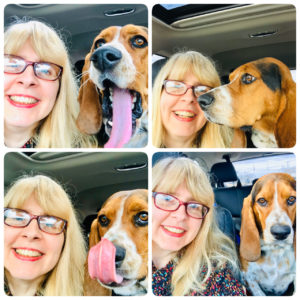 If you don't happen to own the pet in question, looking up traits of the breed will help you with a starting point. Siamese cats are typically quite vocal, for example. Giant dogs—think Mastiffs or Great Danes—tend to be lower energy and obedient because they were bred that way. My own basset Winston shares a common trait with many basset hounds in that he likes to think for himself. He is slow to follow commands because he wants everything to be his idea. Bassets were bred as hunting dogs meant to roam ahead of their people and so their independent streak is strong. How strong? Well, there is one obedience school that simply won't take bassets. But don't confuse a basset's lack of a desire to do what the human says with a lack of love for the human. Bassets are strongly bonded with their people (and other pets in the house) and will follow you from room to room.
But you can also have a 100% pure-bred animal that behaves nothing like its kin. If you don't happen to have a dog, bird, cat, hamster, etc., you can find discussion forums where people share stories about their pets to learn the range of crazy behaviors that animals will evince. I lived with an average-sized cat for a while who could shake the whole house by "boxing" on a bedroom door that didn't sit tight in its frame. Another cat I knew would take his human female's dirty underwear out of the hamper and carry it around with him. He'd also come running like a dog when she returned home, so if she had company with her, they would be greeted by a Calico kitty with a bra in his mouth.
Maybe your fictional rabbit is crazy for green peas. Perhaps the cat in your novel likes to sit on top of the fridge and pass judgment on all your food choices when you open the door. My mother once had a cockatoo who liked to imitate the noise of the doorbell to make the family dog run barking to the front door. Then the bird would laugh and dance. Ha!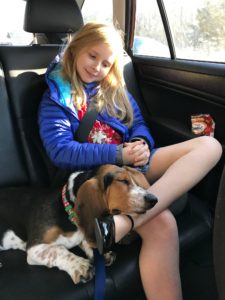 Winston gives me plenty of ideas for Speed Bump, his fictional counterpart. Winston will go belly-up if you try to pet him. The underside of the dog is the best part for scratching, in his opinion. He smells like a hound, which means he emits an odor reminiscent of corn chips. Speaking of chips, he will wake from a sound sleep at the scent of popcorn. And with his considerable nose, he can detect popcorn from two floors away. However, he hates bananas (but not banana muffins). He loves little kids, whom he views as fellow puppies, but is distrustful of men with beards—not to mention the fearsome plexiglass cow outside the ice cream shop. At doggie daycare, they call him "The Mayor" because he makes the rounds, talking to all other dogs on the premises.
The more individualized you can make your story's pets, the more they will seem real. You want readers to hear the meows and feel the fur. You want the creatures galumphing, slinking, and skulking right off the page.