To Everything There Is A Season
by
Summer's here! I love the hazy days of summer, when the sun lingers in the sky and school's out and the pace of life seems just a bit slower. Summer in Boston means sailboats on the river, neighborhood ice cream trucks, and concerts on the common. There are days hot enough to sizzle the concrete and thunderstorms that rock the sky.
I like to set my stories in locations I know fairly well, either because I have lived there or visited often. Boston and its environs are most familiar to me, and I've placed The Vanishing Season in Massachusetts during the summertime. The oppressive heat adds to the sense of dread that Ellery has when she realizes the time has come for another person to go missing.
I've also resided in Southern California and traveled extensively in the USA and beyond, so other cities and towns show up in my stories. Each location has its own rhythms and flavors, and it's fun to try to capture that sense of place on the page. Southern California, for example, gets rain so infrequently that the first time it happens during their "rainy season" the drivers all act like they have never seen water fall from the sky before. They either drive like they've got a newborn baby on board or they put the pedal to the metal figuring they'll just outrun the rain and get home as quickly as possible.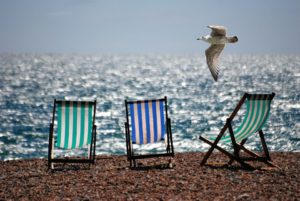 Boston and its fellow East Coast cities are more humid. On hot days your clothes might melt against your body when you step outside. The windows on the subway cars become fogged with condensation—and oh yeah, you can smell your fellow passengers. But you also get blazing orange sunsets and sandy beaches and the bracing cold of the Atlantic Ocean. You get city sprinklers filled with dashing, laughing children, and the especially sweet taste of an icy popsicle on a hot day. There's the smell of fresh cut grass and ocean breezes and backyard BBQs.
I especially love writing about summer when Boston's showing off its other side—the several gray months of the year when its frozen under a blanket of snow and you find yourself ankle deep in slush when you step off the city curb. Writing about the cheery, sun-filled days helps me hang on until they come 'round again, so I'm happy to use as many descriptive words as possible to bring them to life.